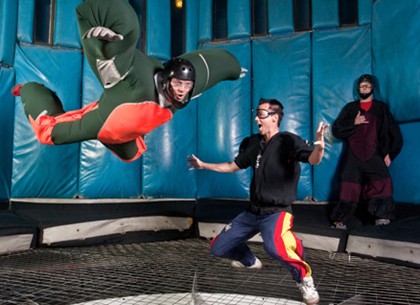 Ever wanted to just fly away? We have too, and Vegas Indoor Skydiving gives everyone who meets the requirements just the opportunity they've been looking for. Vegas Indoor Skydiving has been open since 1982 and provides the opportunity of a lifetime to those interested in flight. You may have seen celebrities such as Travis Pastrana and Britney Spears give it a whirl; now you can, too. From instruction to flight, the whole process takes an hour for a first-timer and costs $75, then only $40 for a repeat flight the same day. You'll also want to check out your DVD ($25) for laughs afterwards.
Want to know more? Check out Vegas Indoor Skydiving's site. Also, we have a money-saving hotel deal
at the Rio to help get you in the air for less.
The Vegas iPhone App is FREE for a limited time only! Track the hundreds of attractions, such as (Vegas Indoor Skydiving) we have in our database, complete with price ratings, photos, reviews, and contact information for all the best in Vegas. Enjoy, and be sure to check out Vegas Hipster, find us on Facebook and follow us on Twitter!