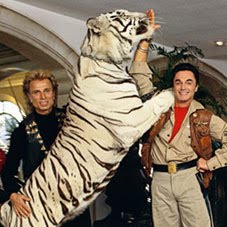 Mantecore, the tiger that injured Roy Horn of Siegfried and Roy more than ten years ago, has died from an illness at age 17. This was announced with no other details in a statemenf from Siegfried and Roy on March 19.
Horn was injured at the Mirage hotel and casino by Mantecore and their show was eventually shut down, but not without stress and varied reactions from the duo.
"I will forever believe it was his concern for my safety and well-being that caused him to act as he did on that night long ago," Horn said in a statement. "We spent many hours together and he never failed to bring me great joy and wonderment. It was my great honor to be beside him at the end. He is now playing with his siblings in white tiger heaven."
Horn's injuries left him partially paralyzed and led to the closing of Siegfried & Roy's show. We wish the duo best of luck in future endeavors.