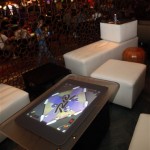 Microsoft Surface computers are now at the Rio iBar.
Harrah's is the first company to deploy a Microsoft Surface Computer with a suite of customized applications. Of course the units will be branded with Harrah's / Rio branding, but the applications on the computer are quite intriguing.
Microsoft Surface is a 30-inch table display that individuals or multiple people can interact with digital content, using touch and gestures or using objects from the real world, like a glass, yes you can put your drink on it. I have seen it used in a scenario of laying our cell phones and it will tell you which phones they are and what capabilities they have. Yes we go to CES and other geek outings.
This table paired with electronic devices such as bluetooth, RFID, GPS will be really cool in the future.
The Rio's iBar is located at the main entrance of the Rio. Literally as soon as you walk in the front doors 25 feet in-front of you is the ibar.
Each table is estimated to cost $10,000.
Microsoft has created applications for the Rio All-Suite Hotel & Casino iBar that include games a group can play together.
Here are some of the applications Microsoft built for Harrah's
(from microsoft.com):
• Flirt Vegas style by adding a hip ultra-lounge vibe to the flirting experience. This application allows guests to create an exciting new way to chat and meet people from one Surface to another. Strategically placed video cameras at each Surface add even more energy to the action, allowing guests to interact with old friends, flirt with new acquaintances, and take and send photos across the lounge.
• Mixologists are inspired to create and order their own signature cocktails for themselves or to send to that special someone across the room using Surface and Harrah's intuitive food and beverage application.
• Hip-notic describes how guests will feel when kicking back to find and view the latest and most popular online videos with their friends on Surface.
• Head Games are taken to a whole new level with Harrah's creative suite of play-for-fun games. With the unique Surface interface, Harrah's adds an exciting new take on some old favorites such as High Roller bowling, Dissed multiplayer pickup pinball, and a Last Call musical memory game that encourage the whole group to play together. Leaderboards add excitement as guests compete with one another to see who can climb to the top of the scoreboard.
In addition to Harrah's unique applications and play-for-fun games, the Surface units also feature a photos application and a virtual concierge application developed by Microsoft that Harrah's customized for its environment.
• See and Be Scene is what guests can do as they tour all of Harrah's Vegas properties and explore attractions in Vegas without leaving their seat at the iBar.
• Virtual Vegas aptly describes how guests will take a virtual walk down the Las Vegas strip on Surface, letting their fingers be the guide. Guests will be able to get information on the latest events and attractions at all Harrah's properties throughout Vegas.