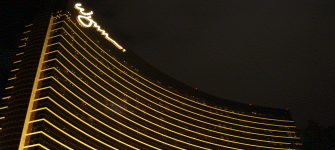 The Wynn Las Vegas is another of Steve Wynn's creation and one of the most luxurious Mega resorts on the Strip. The Wynn is as oppulant as it is big. The decore of the Wynn has a warm contemporary feel. We literally can stay in the casino for hours just hanging out gambling and people watching.

The Roomsat the Wynn are some of the best rooms in Vegas. They are very well appointed with electronic window shades, iPod Dock, Flat Screen TV. Everything is luxurious, plush and very comfortable, even the floor was comfortable, don't ask!
The Beds at the Wynn were over the top comfortable. Some of the best sheets we have seen in a hotel room.

The bathrooms are even better. They are appointed with a tub, separate shower, separate bathroom and an in-mirror TV.
The service at the Wynn is great. The servers are very attentive and come around often. The Floor staff and Managers are always cleaning up, straitening chairs and keeping an eye on the floor. Needless to say the Wynn is very clean and everyone works to make the casino one the the Best in Vegas

What more can we say, if you get the chance, stay here!

While you are there check out the Penske Wynn Ferrari Maserati Dealership. The Ferrari Dealership at the Wynn is spectacular. Do not expect to get in the Dealership unless you can afford a Ferrari. Even if you get in to look around, you may not get to sit in one. You can however view all of the Ferrari's from the outside windows. The Ferrari Dealership at the Wynn is located to the left of the entrance, past the Valet/Cab station.
Address:
3131 Las Vegas Blvd. South
Las Vegas, NV


Phone:
(702) 770-7100

Reservations:
(877) 321-WYNN

Total Ratings:


20

Deprecated: Function mysql_numrows() is deprecated in /home/vegashipster/public_html/hotel_query.php on line 178

Deprecated: Function mysql_numrows() is deprecated in /home/vegashipster/public_html/hotel_query.php on line 180

Deprecated: Function mysql_numrows() is deprecated in /home/vegashipster/public_html/hotel_query.php on line 182

Deprecated: Function mysql_numrows() is deprecated in /home/vegashipster/public_html/hotel_query.php on line 184

Deprecated: Function mysql_numrows() is deprecated in /home/vegashipster/public_html/hotel_query.php on line 186






Number of Rooms and Est. Price:
Resort Room $239+

Number of Suites and Est. Price:
$439+

Buffet Prices (if applicable):
The Buffet, Terrace Point Cafe, Zoozacrakers, Corsa, Alex, Wing Lei, SW Steakhouse, Daniel Boulud Brasserie, Bartolotta, Okada, The Country Club, Red 8 Asian Bistro, Tableau, Chocolat

Number of Restaurants on Premises:


Casino Size (sq. ft.):


Gaming Available:
SB - RB - B - MB - PG - PGP - CSP - LIR - B6 - K

Casino Marketing Phone Number:
(702) 770-7777