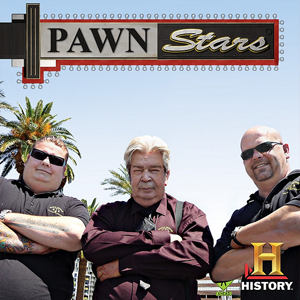 The History Channel's television show "Pawn Stars" has become a huge success since its debut in 2009 and one of the top attractions on the Strip. As many as 5,000 people a day have been known to start lining up early at the Gold & Silver Pawn Shop to check out the site of the show and purchase items. It also became the most-watched show on cable TV, with over 8 million viewers every Monday night. The shop has also undergone a recent expansion.
From its humble beginnings as a family-owned business (Richard "The Old Man" Harrison, his son Rick, and grandson Corey, also known as "Big Hoss") to its current status as a reality hit, Pawn Stars in Vegas has entered the minds of many, both in Vegas and out. It's also made a star out of Big Hoss' childhood friend, Austin "Chumlee" Russell. All of the guys on the show are constantly looking for fake items, deals, and unique items, so every show can turn out a different way depending on the circumstances. The Pawn Stars have purchased a working hot air balloon, a missile guidance system and Harry Houdini's handcuffs, among other things, while turning down items such as Soviet shuttle launch keys and pirate treasure. The business was started in 1988 and thrives to this day amid the billion-dollar casinos and night clubs. The boys from Pawn Stars are even currently on a "road show" style traveling tour. Check out their web site for dates and more information on Pawn Stars. Want to get to Gold & Silver quickly? Caesars Palace is on the Strip, and we have a great deal
for it.
Don't forget our new Vegas iPhone App to track the hundreds of attractions we have in our database, complete with price ratings, photos, reviews, and contact information for all the best values in Vegas. Also, be sure to check out Vegas Hipster, find us on Facebook and follow us on Twitter!