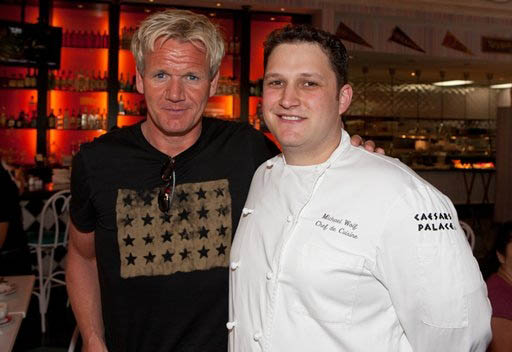 It looks like Hell's Kitchen will have a big presence in Las Vegas–at least, Chef Gordon Ramsay will have a big presence. With the news that Bradley Ogden in Vegas is closing, it was also announced that a gastro-pub in conjunction with Ramsay will take its place. The news comes after our earlier report on Ramsay's first Vegas restaurant in Caesars Palace. Bradley Ogden, the only Las Vegas restaurant ever to win a James Beard national "Best New Restaurant of the Year Award" (2004), will be serving its last supper sometime in mid-October. After that, work will begin on turning it into the gastro-pub.
This comes on the heels of the news that Ramsay plans to open a minimum of three restaurants in Vegas. None have materialized as yet, but "announcements are on the way shortly" according to Ramsay's group. Ramsay sold his New York outpost, London NYC, amid a legal battle with his father-in-law. He is hoping to revive his brand in Vegas, and three restaurants here in partnership with Caesars, will be a big roll of the dice. It appears that the Hell's Kitchen and Masterchef star is going all-in on Vegas restaurants. We'll keep you posted. Also, hotels at Caesars, where the restaurants are scheduled to be located, are available at a great deal by clicking HERE for rates as low as $99 a night
.
You can get the brand new Vegas iPhone App here and track the hundreds of attractions we have in our database, complete with price ratings, photos, reviews, and contact information for all the best values in Vegas. Enjoy, and be sure to check out Vegas Hipster, find us on Facebook and follow us on Twitter!