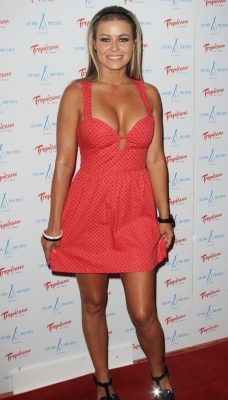 It was a Labor Day weekend party for the ages in Las Vegas, with celebs and stars left and right. Both Carmen Electra and Mike "The Situation" Sorrentino from MTV's The Jersey Shore were in attendance, and we've got the news from their adventures.
It was a Situation in Vegas, with the MTV star hosting at LAX, one of Vegas' hottest clubs. Sorrentino arrived in a limo with his brothers, then went VIP and drank and danced the night away. Also in Vegas were fellow cast members Snooki and DJ Pauly D at The Palms.
Carmen Electra turned heads and popped bottles (literally) at The Tropicana's Club Nikki over the weekend as well. After donning a pair of Nikki Beach sunglasses for the occasion and waiting to welcome the crowd, the champagne corks popped and the crowd was sprayed with a great amount of bubbly.
If you want a glimpse of Vegas celebs, be sure you get into the Luxor for LAX. Many celebrities hit this spot, and Club Nikki is coming along nicely also. We have a deal on cheap hotels at Luxor
as well. While you're at it, get the Vegas iPhone App! We have tons of great restaurants, hotels, nightclubs, and information on all the latest and greatest in Vegas. Enjoy, and be sure to check out Vegas Hipster, find us on Facebook and follow us on Twitter!