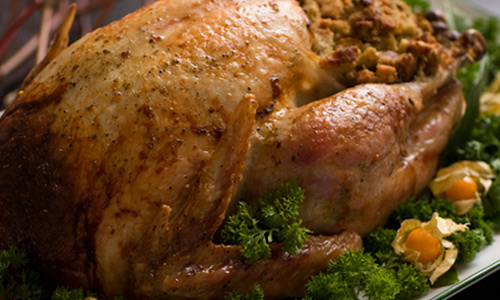 We know that Vegas does things differently, but the only difference in Vegas is that they may just be done on a larger scale as far as Thanksgiving goes. If you're still not sure where to stuff your face, here are a few suggestions:
At the Wynn, Bartolotta Ristorante di Mare offers a four-course meal featuring seared sea scallops with porcini mushrooms and shaved parmigiano, butternut squash ravioli with brown butter and amaretti, oven-roasted wild turkey with chestnuts, sausage, Tuscan cabbage and sage gravy. Frozen torrone sabayon with bitter chocolate and orange is dessert. The price is steep at $95, but if you're going all-out, it's well worth it. Reservations are available from 5:30 to 10 p.m.
Over at Aria, Jean Georges Steakhouse an a la carte menu is available in addition to the regular one. On the menu is roasted squash soup, roasted organic turkey served with crispy sweet breads, grilled figs with fresh mozzarella and spiced pumpkin cake.
Finally, a personal favorite of ours, The Buffet at Bellagio. Guests can enjoy a whole roasted free range Tom turkey, or get adventurous with a roasted garlic rubbed Kobe top round, maple seared salmon, or split Alaskan and snow crab legs. Brunch is available Nov. 25-27 from 7 a.m. until 3 p.m. and is $32.95 per person. Dinner is served from 3 to 10 p.m. and is $44.95 per person.
We wish everyone a safe and happy Thanksgiving.
For more of all things Las Vegas, get the Vegas iPhone App. Don't forget to head to Vegas on a Budget, What to Wear in Vegas, Stories from Vegas, Where to Eat in Vegas, Vegas Hipster, find us on Facebook and follow us on Twitter!