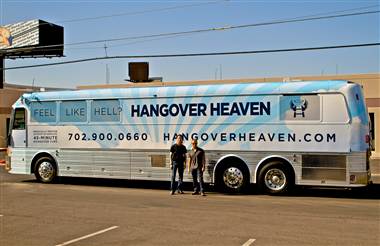 Anybody who has been to Vegas knows the feeling of waking up in the morning with a hangover. One doctor has taken advantage of this "next morning" tradition of feeling sick to turn a profit.  Dr. Jason Burke, a board-certified anesthesiologist has started a medical practice on wheels called "Hangover Heaven".
Hangover Heaven is a bus service that will arrive at the caller's hotel and offer two services to aid you in overcoming your hangover. A basic package for $90 includes an IV of saline solution, B vitamins and vitamin C. A premium package, $150, includes two bags of saline solution. For an extra fee, Burke will even bring treatment to a tourist's hotel room. While this medical practice is just starting there are still many concerns.
Some concerns include not taking a full medical history or maybe having an allergic reaction to the medicine that Burke offers. Dr Burke addressing these concerns says, "I'm not a cowboy. I'm not going to grab someone off the street…without knowing their medical history. If they do have something that might be complicated, I'll refer them to an emergency room or tailor their treatment to avoid anything that might cause problems." Burke even has the Hangover Heaven bus equipped with a hospital-style "crash cart" in case of a severe medical emergency. While the practice is still relatively new the Hangover Heaven bus is estimated to be extremely successful.
For more of all things Las Vegas, get the Vegas iPhone App. Don't forget to head to Vegas on a Budget, What to Wear in Vegas, Stories from Vegas, Where to Eat in Vegas, Vegas Hipster, find us on Facebook and follow us on Twitter! Be sure to check out our brand new YouTube channel all about Las Vegas: http://www.youtube.com/user/vegashipster?feature=mhee