Las Vegas Blackjack made simple
Everyone is new to the Las Vegas gambling scene at some point, and blackjack is one of the most popular games within that scene. Knowing when to stand and when you'll bust is key, and with the following tips, the Las Vegas blackjack scene will be yours in no time:
The Basics:
The object of blackjack is to beat the dealer. If your cards total higher than the dealer's cards without going over 21, you win. Cards 2-10 are counted at face value, an Ace can count as either one or eleven, and all face cards have a value of ten. If you go over 21, you "bust" and automatically lose. Usually, the cards are dealt out of a "shoe" that holds up to eight decks of cards (pictured below), and most places use a shoe that constantly deals out cards to avoid card-counting practices.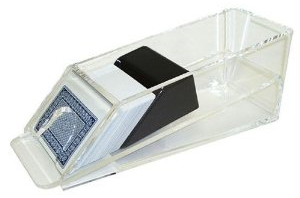 When you want another card to try getting closer to 21, tap your finger on the table. This is "taking a hit." You can take as many hits as you want as long as you don't go over 21. When you're satisfied with your hand, and think you've got the dealer beat, wave your hand over your cards to let the dealer know you don't want any more hits. This is taking a stand. When you have an Ace in your hand, it is a soft hand, and when you do not, it is a hard hand. Click on the strategy card below to be taken to a page where you can print it out. Most casinos allow the use of these cards, and it's a good way to have a reference point when you begin: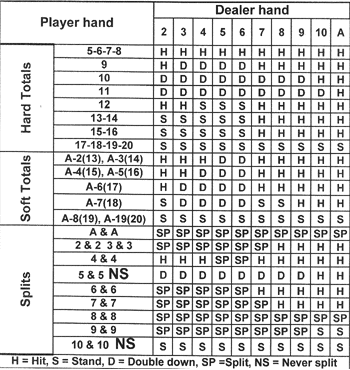 Take a Chair to the Left (Dealer's Right):
This will give you more time to total your cards, look at the dealer's up-card, and remember the appropriate play while other players play their hand. You want more time to remember things at the start, and the pressure of having to play right away may ruin a good learning experience and decrease the fun factor.
Just Say No--to "insurance" and "even money":
If you are dealt a natural blackjack (21 in your first two cards), the dealer will ask you if you want "even money." Over time, you'll win more than you lose by not accepting "even money," which is basically an insurance policy against a tie (push). Insurance is when the dealer's up-card is an Ace. Trust us, just don't take insurance. Every blackjack book available says the same thing.
Play the Odds:
Simply put, unless you want to bust a lot, play the odds. Yes, it's Vegas, you should take chances every now and then, but know that your chances of coming out ahead of the house are not very good. If you have a hand of 17 or above, it's usually a good idea to stand on it, otherwise you have a good chance at busting. Bet within your limits and realize that the house will come out ahead.
Know Your Game and When to Play:
Blackjack can be played with a single deck, or up to eight decks. Know that this affects how you play. It is important to note that cheaper games for beginners usually occur before 4 o'clock at night. For simple blackjack strategy, visit the following site:
Don't Hold a Grudge or Get an Attitude:
Beyond your own experience, the other people at your table would like to enjoy a good time as well. You're there to enjoy the experience, so make sure those around you do also. Nobody likes to see a sore loser's temper tantrum. Leave the bad feelings at home when you arrive at the table.
For where to play and pricing, as well as a cheat sheet with the best odds in Vegas and free blackjack betting card, visit the following web sites:
Cheap Blackjack Tables
Vegas Cheat Sheet