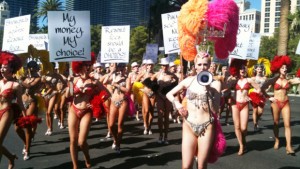 (from the Associated Press)
Las Vegas headliner Marie Osmond and dozens of showgirls are protesting resort fees charged at many Las Vegas hotels.
Osmond and the roughly 50 performers from the Jubilee! show at Bally's Las Vegas hotel-casino marched on the Las Vegas Strip Thursday morning to promote Caesars Entertainment's no fee policy.
Caesars Entertainment claims its no-fees policy saves travelers $3 million per month. Other hotels charge anywhere from $4.50 to $24.99 per night, according to Vegas.com.
Las Vegas resort fees are usually not included in an advertised room rate. They cover hotel amenities ranging from fitness center access and internet service to valet parking.
The event Thursday morning was dubbed a gesture of solidarity with the American consumer.
Magicians Penn & Teller and other entertainers also joined the protest.