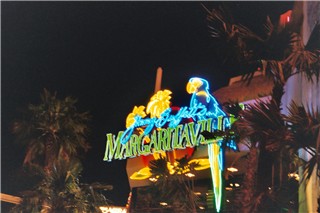 A lot of new things are coming to Vegas very soon, and we thought we'd take you through some of the most interesting changes that are coming soon or recently-arrived. For those of you heading to Vegas soon, check these out:
Jimmy Buffett's Margaritaville Casino Las Vegas
We reported on this one earlier, but it's worth repeating due to popularity–The Flamingo will host the brand new Jimmy Buffet's Margaritaville Casino starting October 1. It will be an addition to the Margaritaville Restaurant, and parrotheads can enjoy Buffett in Vegas October 15 and 22. The casino within a casino already has quite a bit of interest, and we'll keep you posted when it opens.
Mob Experience Re-Opens Soon
The Tropicana's Mob Experience saw some hard times recently and, though some artifacts and displays remain open, is scheduled for a January relaunch after an update.
Many New Restaurants – Central Michel Richard, Las Vegas Chocolate Shop, Lobster ME, 35 Steaks + Martinis, Public House at Venetian
As one door closes, several new ones to restaurants have or will open. In light of customers opting to spend a little less on dining out, the Vegas restaurant scene has shifted appropriately to include affordably-priced dining experiences. Famous Washington, DC chef Michel Richard recently made his Vegas debut Wednesday with 24-hour cafe Central Michel Richard, the first all-hours cafe created by a James Beard award-winner. Central Michel Richard is in the main lobby of Caesars Palace and serves Richard's signature California-French food.
Planet Hollywood got two new places last month, with the Las Vegas Chocolate Shop and Lobster ME in the Miracle Mile Shops. Las Vegas Chocolate Shop offers chocolate bars, dipped strawberries and truffles, and even baked goods, sugar candies, and coffee. If you're looking for a little bit more adventure in your eating experience, Lobster ME has you taken care of. They advertise the world's best lobster rolls, lobster ice cream, lobster on a stick, and even lobster mac and cheese. Finally, a new gastro pub at the Venetian titled Public House will open by the end of the year.
If that's not enough to get you going, we have the Vegas iPhone App to help you find the best Vegas experience for you. Enjoy, and be sure to check out Vegas Hipster, find us on Facebook and follow us on Twitter!