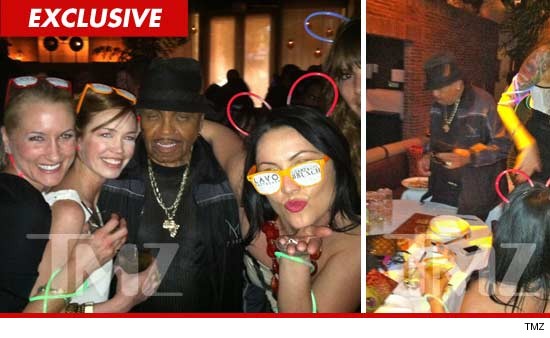 (Story and photo courtesy TMZ.com) 83-year-old Joe Jackson threw on his best track jacket … and goldest chain … and hit the club scene in Vegas this weekend … at 2 IN THE AFTERNOON.
Michael Jackson's father was chillin' at Lavo Champagne Brunch at the Palazzo Hotel … a full-on nightclub-style party scene … that serves almond crusted French toast.
Sources at the club tell TMZ … JJ arrived with a male friend … and wasn't boozing, only drinking water.
But he WAS pimpin' it … hangin' out at a table with a group of hot chicks. At one point, he handed his camera to someone and said, "I want a picture with the girls."
After the pic, the girls described JJ as a "sweet old man."
What happens in Vegas … is weird sometimes.