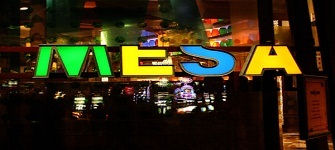 Celebrity Chef Bobby Flay brings his passion for bold and innovative Southwestern flair to Mesa Grill at Caesars Palace, the Las Vegas outpost of his acclaimed New York flagship restaurant. Open for lunch and dinner, and designed by renowned restaurant designer, David Rockwell, the open space features rich and vibrant colors and textures that are reminiscent of the American Southwest.

Chef Flay developed his signature style of cuisine by marrying the flavors of southwest with his love of grilling. On his menu at Caesars Palace, he presents tongue-tingling dishes like New Mexican Spice Rubbed Pork Tenderloin, Sixteen Spice Crusted Chicken and Mango and Spice Crusted Tuna.

Las Vegas' proximity to Mexico gives the restaurant access to some of that country's highest-quality tequila and mezcal offerings, and the expansive wine list has a global reach yet maintains an emphasis on top American wines. A cocktail menu features signature drinks such as the Mesa Pisco Sour and Bitter Frenchie- a refreshing mix of Charbay Grapefruit Vodka, Cranberry Juice, Grapefruit and Fresh Lime. Of course, the restaurant also proudly features the perfectly mixed Mesa Grill Margarita, a drink that will never go out of season.
Restaurant Name:
Mesa Grill

Location:
Caesars Palace


Phone Number:
(877)-346-4642

Breakfast:


Brunch:
Sat - Sun, 10:30am - 3pm

Lunch:
Mon - Fri, 11am - 2:30pm

Dinner:
5pm - 11pm

Total Ratings:


0