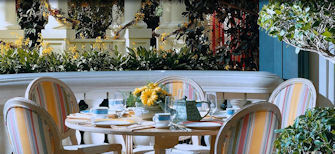 Cafe Bellagio

Cafe Bellagio is a coffee shop that is a great place to satisfy your cravings without spending a lot of money.

Beautiful interiors and architecture provide a light and airy atmosphere for this upscale 24-hour dining room as guests gaze through turn-of-the-century arched windows to superb views of the pool and garden area. Guests can easily view the setting of charming al fresco terraces off private meeting rooms, and elegant parterre gardens banded by hedges that complement the artistically tiled Mediterranean-style pool, reminiscent of the romance of the Old World. Café Bellagio is also located right off our Conservatory & Botanical Gardens where an explosion of colors and scents radiate from the exotic fauna and flora.

Café Bellagio presents menus featuring breakfast, lunch, dinner, and late night supper selections that offer a wide range of dishes with new and exciting twists on café favorites.
Restaurant Name:
Cafe Bellagio

Location:
Bellagio


Phone Number:
(702)-693-7223

Breakfast:
$10-$15

Brunch:
No

Lunch:
$10-$15

Dinner:
$10-$15

Total Ratings:


2