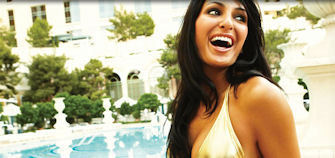 Head outdoors and enjoy the sun by the pool where youíll find refreshing and invigorating concoctions created from the freshest ingredients that are made from scratch daily. Whether itís the quality of liquor or daring ingredients, Bellagio wonít compromise. Our bartenders use fresh juices, nectars, purees, coulis, homemade mixes and fresh garnishes.

You can sip to your heartís content with relaxing views of the pools, a garden vista cafť and private cabanas that are accented by artfully formed citrus and parterre gardens.

Begin your cocktail journey with the Bellagio Mojito, infused with fresh blueberries, blackberries, raspberries and mint next to the elegant surrounding courtyards. Finish your beverage tour with one of our innovative and popular cocktails to complement the view of the artistically tiled pools that are reminiscent of the Mediterranean designs evident elsewhere at Bellagio.
Location:
Bellagio

Phone:


Charge:


Hours:
9:00 a.m. - 4:00 p.m. Seasonal

Attire:
Very Casual

Total Ratings:


0