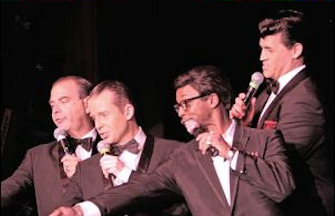 The Rat Pack is Back

The Rat Pack is back, is a tribute to the glory days of Las Vegas, when Frank, Sammy, Joey and Dean were kings.

This is a decent representation of the Rat Pack. The performers do a great job with true to life impersonations of the legendary Rat Pack - Frank, Sammy, Joey, and Dean. The bank is a swinging big band style

The Plaza Hotel and Casino showroom serves dinner nightly before the Rat Pack is Back takes the stage – thus taking the classic Las Vegas dinner and show idea and adding modern elegance while retaining a great value.
Show Name:
The Rat Pack is Back

Show Room:
Plaza Hotel and Casino

Phone:
702-386-2444

Price:
$57 - $87.50 Dinner

Times:
6p w/ dinner 7:30 w/o

Dark:
Friday

Attire:


Total Ratings:


1