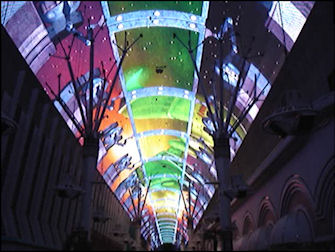 Freemont Street Experience

We always take our friends down to Freemont Street at night to check out the Overhead show. The show is even better now that they have upgraded the lighting system. It is a must see, but it is a jaunt to get to downtown Vegas. DO NOT WALK take a cab downtown from the strip and visa versa. The Cab will cost you between $8 - $12 for the cab ride. While trying to hail a Las Vegas Downtown Cab you have to hail the cab off main streets of Freemont, you will have to walk around the corners to get a cab.

The Freemont Street Experience is more than five football fields long. The show starts after dark. The show now has over 12.5 million synchronized LED modules all synched to a sound-track with a 550,000-watt sound system.

With more than 8 different shows currently running the new ones are: "The Drop," a mythical underwater journey, Imaginary Forces; "Area 51," including aliens and fighters trying to defend the world and "American Freedom," a patriotic salute to the Red, White and Blue.
Show Name:
Freemont Street Experience

Show Room:
Freemont Street

Phone:


Price:


Times:


Dark:


Attire:


Total Ratings:


6