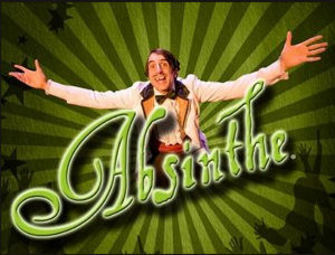 Absinthe Las Vegas (Not the Drink) features adult comedy and crazy acts only the Internet has seen. The show is taking Vegas by Storm. Absinthe is performed within mere feet of the audience surrounding an intimate stage. Absinthe is an adult show

Absinthe is located at Caesars Palace in Spiegeltent this is an Outdoor Event.

The New York Times writes: "Cirque du Soleil channeled through Rocky Horror,"

The Las Vegas Sun says: Absinthe is "the most inventive and daring show to open on the strip in years,"

The "Absinthe" experience includes an "adult carnival," complete with a speakeasy, beer garden and drinking games including "Flip Stein" and "Champagne Pong."

The main "Absinthe" show will happen in the round, with eccentric performers just feet from the audience.
Show Name:
Absinthe

Show Room:
Caesars Palace

Phone:
(800) 745-3000

Price:
$69.00, $99.00

Times:
7:30p and 9:30p

Dark:
Monday

Attire:


Total Ratings:


13