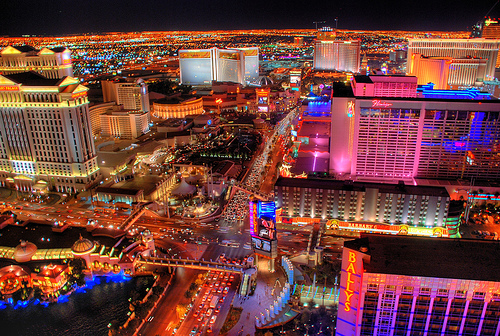 We recently ran across some interesting deals in Las Vegas, and now that it's summer and vacation time for many, we had to share them. We have also included some Promo Codes to use and double down on your fun! Most of these are on the Strip:
Food:
-Lagasse's Stadium at the Palazzo has happy hour with $3 beers and $5 appetizers from 3-7 p.m. Tuesdays-Fridays.
-Mario Batali restaurants at the Palazzo and The Venetian give locals with ID 20 percent off their checks when they dine at Carnevino at the Palazzo or at B&B Ristorante in The Venetian, available through August.
Drinks:
-The Palazzo and The Venetian offer Bar Hop, where customers pay $75 for unlimited drinks at all hotel lounges, including Laguna Champagne Bar, Salute Lounge, La Scena Lounge, Fusion Latin Mixology Bar and Oculus (noon-midnight daily). Or pay $150 to drink for the whole weekend (noon Fridays-6 p.m. Sundays). With both passes, participants receive complimentary admission to V Bar and Azure luxury pool, available through August.
Rooms:
-MGM Grand is offering rates starting at $70. It comes with a 2-for-1 entry to the hotel's buffet, 2-for-1 entrance to Wet Republic, or 2-for-1 admission to Studio 54.
-Mandalay Bay has packages that include $50 cabana credit for the Mandalay Bay Beach, 30 percent off Disney's "The Lion King" and 2-for-1 breakfast at the House of Blues. Use the promo code FALLENOAK (Expires 12/26/11) to get the web site rate of $69.99 per night.
-Rooms at Luxor start at $36 and include admission for two to CatHouse Ultra Lounge, 2-for-1 Dos Equis at T&T, $15 off a custom airbrush tan at Nurture Spa & Salon, $10 off tickets to Carrot Top or "Fantasy," and a free Jell-O Shot at Dick's Last Resort. Use the promo code PALL1 (Expires 12/28/11) to get all you can eat every day at MORE, the Buffet, two tickets to CRISS ANGEL Believe™ (Tuesday through Saturday evenings-balcony level seats), two tickets to Titanic: The Artifact Exhibition, two tickets to Bodies…The Exhibition, two Nurture Spa Day Passes, two VIP admissions to CatHouse (closed on Tuesday evenings), and room check-in at VIP Lounge.
Also, don't forget to check out our great Hotel Guide, Entertainment Guide, Restaurant Guide and Nightclub Guide before you go and get the best value for your money everywhere you go!