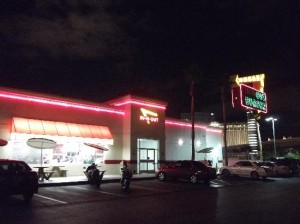 We love to chow down on some great food, and who doesn't love a good burger joint? We've been all over Vegas and tried out the best places to get a hearty meal for burger freaks, and the following list (in no particular order) includes just some favorites:
Multiple locations dot Nevada, California, and Arizona for a reason, and that reason is a simple, fantastic burger that nears no equal in price or in taste. Their menu hasn't changed since Elvis was still alive (although there is a "secret menu"), and yet, they are always busy, no matter the time of day. There is a location near the Luxor
, and a few others around the city as well. This is a burger for everyone, and the locals love it too.
The Rib-Eye Burger at Aria Las Vegas
Aria Las Vegas (Skybox Bar and Grill)
If you are into steak burgers, this is your stop. Horseradish, steak sauce, pickles, tomatoes, lettuce, and great sports on the big screen are all included. Click the link above and use the promo code AR503PA (Exp 10/31/11) to get a great deal to head and check the burger out.
The BOA Burger at BOA Steakhouse in Caesars Palace
We like to try new things on burgers, and this is what the BOA Burger is all about. Camembert cheese and onion rings on top of a fat burger patty? We'll take it! There are a lot of options for food at the BOA Steakhouse, but this is one of the best. Click the link above for rates low as $99 a night at Caesars so you can get your burger on and not break the bank.
BLT Burger at The Mirage
This is a simple burger with the best ingredients, very carefully prepared to ruin your post-BLT burger experiences at fast food joints. It's that good. It's a modern atmosphere that gives the impression of more than just a casual burger joint, and that impression is well-founded.
These are just some of the great food options in Las Vegas. Be sure to check out our Restaurants section if you're still hungry!