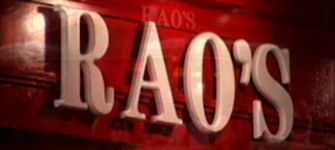 A night at Rao's is a truly a magical experience. Whether in New York, or at Caesars Palace in Las Vegas, the Rao's family makes sure you feel as if yours is the only table in the room. Frank Pellegrino Sr., Frank Pellegrino Jr., and Ron Straci, have been proudly executing perfect dinner experiences for decades first in New York now in Las Vegas.

At Rao's Caesars Palace, the food is prepared as in New York: Simple. Honest. Italian. The greatness of the food stems from the quality of the products. The kitchen uses fresh, high-quality ingredients, such as homemade roasted red peppers, freshly grated Pecorino-Romano and Parmigiano-Reggiano cheeses, Felipo Berio olive oil, and certified San Marzano plum tomatoes from Italy. For more than 110 years, that's the way the family has cooked in New York, and that's not about to change in Las Vegas.

With these and other ingredients, the home-cooked Italian meals at Rao's are magnificent culinary experiences. The time-honored dishes include perfectly cooked pastas, risottos and the mouthwatering steak bistecca; cooked perfectly and sliced tableside. There is also the incomparable Rao's Lemon Chicken, broiled to perfection and sauced with Uncle Vincent's Famous Lemon Sauce that consists of lemon juice, red wine vinegar, olive oil and spices. The classic veal chop is pan seared and topped off with a medley of cherry peppers hot and sweet; and the meatballs, either alone or accompanied by one of the many pasta dishes, taste as if Aunt Anna were still rolling them each morning.

Looking for a place to host your next gathering? Make the Rao's tradition part of your own by planning a group feast inside the Rao's private dining room. This space can accommodate groups up to 12 and comes with dedicated service and all the personal touches that make Rao's a legendary dining experience. Plus, this allows your group to enjoy great food and hospitality without all those dirty dishes.
Restaurant Name:
Rao's

Location:
Caesars Palace


Phone Number:
(877)-346-4642

Breakfast:
No

Brunch:
No

Lunch:
yes

Dinner:
5pm - 11pm nightly

Total Ratings:


0