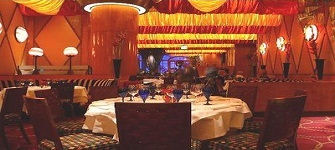 Osteria Del Circo is an upscale Italian bistro. The service, price and food were all great when we were there. The Circo also overlooks the Bellagio Fountains

The legendary restaurateur Sirio Maccioni, his wife Edigiana and his eldest son, Mario, have brought their acclaimed New York restaurant to Bellagio. Osterio del Circo, reminiscent of a European carnival tent with Adam Tihany's playful, sophisticated big top décor, specializes in Tuscan cuisine, homemade pastas, grilled meats and fish, as well as hot and cold appetizers.

The grand setting features playful, yet sophisticated big top dining room décor, reminiscent of a European carnival tent, featuring views of Lake Bellagio with its water-and-light extravaganza.

Under the expert direction of Executive Chef Massimiliano Campanari, the Maccioni family tradition of passion for the palate is maintained. Upscale Tuscan fare takes center stage in the surroundings overlooking Lago di Como enhanced by the finest of 900 wine selections imported from all around the world.

Reservations:
Recommended by calling 866.259.7111 or 702.693.7223.
Restaurant Name:
Osteria Del Circo

Location:
Bellagio


Phone Number:
(702)-693-7223

Breakfast:
No

Brunch:
No

Lunch:
No

Dinner:
Daily 5:30p - 10:30p

Total Ratings:


0