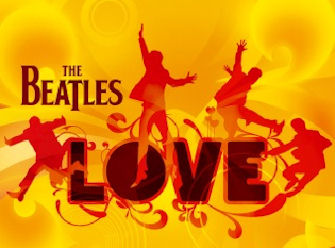 Love Show Tickets, Click Here

All you need is LOVE
The Mirage

The world renowned Cirque du Soleil group does it again with this Magical Mystery Tour inspired show that is really good, and you just have to like the Beatles a little bit to enjoy this show.

Cirque du Soleil founders, Guy Laliberte and the late guitarist George Harrison, had a personal friendship for many years of their lives. This admiration for each others' work was always evident and Guy has lovingly decided to continue Harrison's legacy by developing LOVE.

The show has vivid color, intimate atmosphere and energy, let alone the music. LOVE draws its inspiration from the poetic lyrics of the Beatles through characters that are both real and imaginary. Numerous scenes play out during the production through musical sounds and panoramic visual displays. The cast of LOVE is made up of 60 characters from all over the globe. This amazing cast sweeps all over the round stage showcasing aerial performances, freestyle dance, and extreme sports which are all typical of a fantastic Cirque du Soleil show.

On a hard day's night, you will really appreciate the elements of beauty and grace coupled with the strong, youthful, energy that LOVE has to offer. LOVE is an artistically planned celebration of one of the most beloved rock bands of all time. No matter what you're looking for in a Las Vegas show…LOVE is all you need.

Great for any music fan!
Show Name:
The Beatles Love

Show Room:
The Mirage

Phone:
1-800-963-9634

Price:
$79-$155

Times:
7 and 10p

Dark:
Tuesday and Wednesday

Attire:


Total Ratings:


17