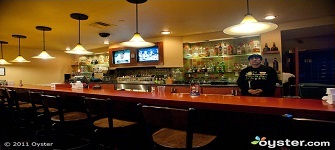 Located next to the Sidewalk Cafe', Tequila Bar and Grill offers a wide variety of Mexican food. Try one of our 60 different types of Tequilas or enjoy a limitless number of signature margaritas, frozen daiquiris, or Mexican beers. Our menu is great for snacking and sharing, as you enjoy food items from tacos and quesadillas to tender smoked dry rubbed baby back ribs. Enjoy the Latin music. Enjoy the fun. Bring your friends and meet new ones in our Mexican Holiday Everyday atmosphere. Must be 21yrs or older to purchase alcoholic beverages. Texas 3-POUND Challenge

Ultimate BBQ Bacon Cheese Burger is $35. Everything's Bigger in Texas!

A THREE POUND Angus Grade-A Burger
Charbroiled and Served with Six Slices of Cheddar Cheese, 12 Strips of Thick Cut Smoked Bacon, TB&G BBQ Sauce, Lettuce, a Whole Tomato and Red Onion, all Piled High on a Artisan Hamburger Bun.

If YOU can finish this burger in 30 minutes or less, it's FREE! You will also get a Souvenir T-Shirt and your picture will go up on the Tequila Bar and Grill Wall Of Fame!
Restaurant Name:
The Tequila Bar and Grill

Location:
Circus Circus Hotel and Casino


Phone Number:
(877) 603-4390

Breakfast:


Brunch:
Bar Daily: 10am-6am

Lunch:
yes

Dinner:
Restaurant Daily: 2pm-6am

Total Ratings:


10